NAVIGON arrives for Android in the US
1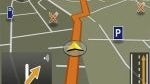 The
NAVIGON MobileNavigator
for Android was debuted almost a year ago, and has been faithfully guiding its European customers with offline navigation, traffic updates, and augmented views for almost a year. They have also had an
iPhone version
for even longer. Now NAVIGON has released their Android version for the US, chock full of 1.5 GB worth of maps for your driving pleasure.
Gerhard Mayr, VP of worldwide mobile phones, offered the following statement: "For almost two decades NAVIGON brings preeminent navigation technology; this long standing experience enables us to deliver sophisticated navigation solutions that transform smartphones into navigation solutions comparable to standalone devices." And MobileNavigator delivers, with the Reality Scanner, which shows point of interest overlayed on the device's camera view.
MobileNavigator uses the device's camera, GPS, and a large database of points of interest to offer a smoother navigation experience than most mobile GPS apps. Reality View Pro displays realistic 3D road signs and exits, rather than the flat 2D representations found on most GPS UIs.
MyRoutes also tracks the user's driving patterns to deliver customized routes with ETAs and traffic information. Similar to many standalone units, and the integrated
iPhone solution from Cobra
, MobileNavigator also includes the locations of red light cameras.
We know what you're thinking: "
Google Navigator
is sufficient, so why should I pay for another nav app?" Well, a solution with offline navigation and stored maps will make a difference. If you drive a lot, and often do so in unfamiliar areas, MobileNavigator will make your navigation a more smooth and intuitive experience.
MobileNavigator is available now for a one-time fee of US$39.99. But that price is only for the first two weeks, before it's raised to its normal price of US$59.99.
source:
Engadget