NSA's phone snooping is deemed legal by a federal judge; Supreme showdown coming?
17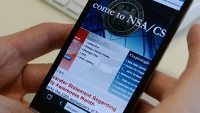 Less than two weeks after
a federal judge in Washington D.C. ruled that it was "almost certainly" unconstitutional for the NSA to obtain metadata
from public phone calls, a federal judge in Manhattan ruled that the NSA's actions were legal. This sets the stage for a possible Supreme Court decision down the road. According to David Cole, a constitutional law and national security scholar at Georgetown University, should an appeals court rule against the NSA on constitutional grounds, the case could find itself being heard by the highest court in the land.
As for the case in New York, it was brought by the ACLU which argued that the NSA's actions were violating the constitutional rights of its members by collecting the metadata from ACLU phone calls. Metadata consists of the phone numbers called and the elapsed time of these calls, without revealing the content of them. The organization said that the decision was disappointing and will appeal the decision to the Second U.S. Circuit Court of Appeals in Manhattan. Meanwhile, the decision against the NSA in Washington D.C. will be appealed by the government to the U.S. Court of Appeals for the District of Columbia Circuit. Three other cases fighting the collection of bulk data are pending.
The judge hearing the case in New York City was Judge Pauley, an appointee of President Bill Clinton. The NSA's program captures data on all calls, and then looks to match phone numbers to those suspected to be connected to terrorism. The program was put into effect after the 9/11 terror attacks, and President Barack Obama has hinted at changes in the program for next year, with the possibility that the data could be stored by a private phone company instead of a government agency.
"The right to be free from searches and seizures is fundamental, but not absolute," he wrote. "Every day, people voluntarily surrender personal and seemingly private information to trans-national corporations, which exploit that data for profit. Few think twice about it, even though it is far more intrusive than bulk telephony metadata collection."
-excerpt from Judge Pauley's decision
The Patriot Act allows the government to collect records belonging to businesses if the government feels that they are relevant to an investigation. Some of the companies that have passed along information include Verizon, Apple and Google. In making his decision, the judge referred to a 1979 case, Smith v. Maryland that held that "
individuals have no legitimate expectation of privacy
" concerning phone numbers they dial, because the phone companies connect the calls and the public is aware that these carriers can record the numbers they call. Following the ruling, an NSA spokesman said that the agency was "
pleased
" with the decision.
source: WSJ