NSA creates special Android spy phones
14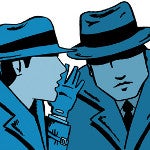 Even spies need smartphones, and not just to play Angry Birds on while they are saving the country from harm. Obviously though, a spy can't just walk into a store and order a box full of handsets. Instead, the
NSA has taken the Android OS
and has made it the center of its own model which is built to make sure that its agents have a secure line to communicate over. The openness of the system allows NSA technicians to make the necessary changes to the OS and to remove parts that could be a security threat.
The Fishbowl project is the name given to the NSA's plan to take a commercially available communication system and change it to meet the requirements of the agency.
Two layers of encryption are used on each call
which is also routed through the NSA's secure server. And despite these layers of encryption, the call quality is not impacted, except for a small delay. When you consider the secure nature of the line, the delay is a small price to pay for the comfort of knowing that
no one can spy on your call
. NSA is now thinking about offering a special app market that will allow its agents to download apps on their phones without compromising safety.
source:
Gizmodo