Mozilla launches multiplayer browser adventure Browser Quest to showcase HTML5, JS prowess
2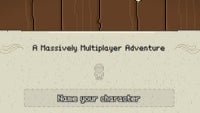 A completely web-based adventure game sounds like an extremely complicated undertaking, but in order to show that it's indeed possible Mozilla has teamed up with game developer Little Workshop to make
Browser Quest
. The game is coded using standards-based web technologies -
HTML5 and JavaScript
- and can be played right in your browser without any plugins.
The game is a brilliant demonstration of how far the web has gone and what vast possibilities hide in the depths of HTML and JavaScript. It uses the HTML5 Canvas element to draw a retro pixelated 2D virtual world and HTML5's audio tags take care of the sound effects. WebSockets is used as the pillar of server communication and localStorage saves your progress.
The beauty of the whole web standards Browser Quest affair is that the game is available on every device supporting HTML5 - your desktop computer, notebook, Android or iOS tablet, pretty much everything you can think of.
The game also handled the initial load pretty well - with over 1,900 players online at the same time the game was functioning just fine.
And looking further into the future, in-browser gaming could develop to support 3D, and more sophisticated graphics, so it's definitely something worth waiting for. Hit the source link below to play the game yourself.