MoviePass to raise its price 50% to $14.95 a month and limit ticket availability to blockbusters
6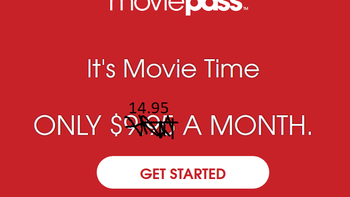 Trying to better match revenue flow and expenses, MoviePass will raise its subscription price sometime over the next 30 days by 50%, to $14.95/month. The current rate is $9.95/month. Subscribers get to view one 2D movie every day. As we told you last night, CEO Mitch Lowe held a meeting yesterday to inform employees that
subscribers will no longer be able to use the service to view blockbuster movies
.
Last weekend, the new
Mission Impossible
film was off-limits, and upcoming titles from Disney (
Chirstopher Robin
) and Warner (
The Meg
) will also be unavailable to MoviePass members. Unless a studio has a pre-arranged deal with the company, first run movies opening on more than 1,000 screens will be limited to MoviePass members during the first two weeks of their runs.
Last night was a repeat of what happened last Thursday when MoviePass cards weren't being accepted by participating theaters. Those using E-tickets were allowed to see their movies. MoviePass last week had blamed this on technical issues, but a subsequent SEC filing revealed that the real reason why members using the card were stranded at the box office
had to do with the lack of cash in the company's bank accounts
.
To make sure that the company could move ahead, but only on a short term basis, last Friday MoviePass borrowed $5 million from a hedge fund in the form of a $6.2 million Demand Note. The problem is that tomorrow, the lender can demand that $3.1 million be repaid. On August 5th, the lender can demand $6.2 million from MoviePass.
"In an effort to maintain the integrity of the MoviePass mission, to enhance discovery, and to drive attendance to smaller films and bolster the independent film community, MoviePass will begin to limit ticket availability to Blockbuster films. This is a strategic move by the company to both limit cash burn and stay loyal to its mission to empower the smaller artistic film communities. Major studios will continue to be able to partner with MoviePass to promote their first run films, seeding them with a valuable moviegoing audience."-MoviePass
Investors were initially pleased about the higher monthly subscription fee. The shares of parent company Helios and Matheson Analytics Inc. more than doubled on the open today, hitting an intra-day peak of $2 a share. But sellers have since taken over and the stock is currently trading at 52 cents, down another 35% today. Keep in mind that this stock recently had a 1-for-250 reverse split.