Motorola's new logo hints at color options, brands itself "a Google company"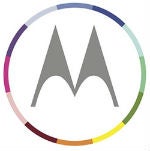 We broke the news a while back that the Motorola Moto X (then just known as the X Phone) would likely be made available in at
least 20 different colors
. Now, Motorola has tweaked its logo, and the new look seems to hint that our original report was correct. We saw the beginnings of this with the new "
Hello again
" campaign that it was in recently, where the logo changed colors. The new logo is a simple grey with a wheel of colors around it, and the logo can take on any color as needed. This seems to hint that Motorola devices will focus on color options in the future.
The last tweak is the label that Motorola is "a Google company". Google and Motorola have always asserted that the two companies would be kept separate, and Motorola would be run independently, but this is a clear indication that Google does have some control over its new hardware company.