Motorola X Phone may come in over 20 colors
29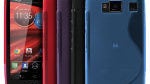 There have been persistent rumors that the Motorola X Phone would be offering hardware customizations, bolstered by
Guy Kawasaki's cryptic comments
on the subject. Our source at Motorola has said that hardware customizations like choosing the screen size, amount of RAM, or case material are
highly unlikely
, but it looks like there may be some amount of customization on tap for the X Phone.
You most likely won't be able to change the internal hardware or any of the base specs that you see with a phone, but it looks like there will be a pretty impressive choice of color options for customers looking at the X Phone. The numbers are still in flux, but the word is that Motorola and Google want to give users the choice of color, and that the choice may be over 20 different colors.
Whatever the number, it would make the X Phone quite a bit more colorful than the iPhone 5S, which was recently rumored to have a new
third color option
. Of course, it still doesn't look like we're going to see the X Phone
anytime soon
, but at the very least Google and Motorola are changing their tune in recent comments. No longer is Google not "
wowed
", and Motorola is saying that we should
start to get excited
.