Motorola slips, confirms DROID MAXX 2 with screenshot from new Moto Email app
7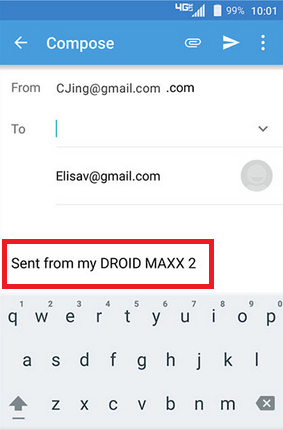 Screenshot for new Moto Email app confirms that the Motorola DROID MAXX 2 is in bound
We just told you about
the new Moto Email app that made its debut today in the Google Play Store
. In making life easier for its customers, Motorola also confirmed accidentally, that the Motorola DROID MAXX 2 is coming. In the screenshots that accompany the listing, one of the images shows an email being written with a signature that reads, "Sent from my DROID MAXX 2." Motorola has since removed the image.
As you know,
Motorola and Verizon will be holding an event on October 27th that is DROID related
. We expect that both the Motorola DROID MAXX 2 and the Motorola DROID Turbo 2 will see the light of day during the event, which will take place in New York City. The DROID MAXX 2 will be a special Verizon branded version of the
Motorola Moto X Play
, while
the DROID Turbo 2 will be a Verizon exclusive version of the Motorola Moto X Force
. That model is expected to offer a shatterproof screen.
Earlier this month, Google confirmed accidentally that the DROID MAXX 2 will be a rebranded Moto X Play. Google posted a list of Android devices optimized for Screen casting, and listed the DROID MAXX 2 by noting that it would
be given that name for Verizon, and called the Moto X Play for the rest of the world
.
The MAXX line is known for its large capacity batteries. The
Motorola DROID MAXX
featured a 3500mAh cell, and the Moto X Play has a 3630mAh juicer; assuming no changes, the DROID MAXX 2 will get a small 130mAh, or 3.7% hike in battery capacity.
Thanks for the tip!
source:
Droid-Life