Motorola Moto X Force (Bounce) to be launched as Droid Turbo 2 by Verizon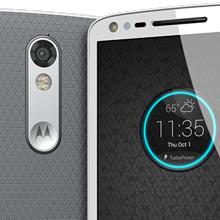 In the last few weeks, we saw several leaked renders that allegedly show an unannounced Motorola handset called
Moto X Force
(and codenamed
Motorola Bounce
). According to @upleaks, this handset will be released in the US, but it's going to have a different name: Motorola Droid Turbo 2. @upleaks even has an image of the
Droid Turbo 2
, which obviously doesn't look too different from the Moto X Force.
Needless to say, the Droid Turbo 2 will be available only at Verizon Wireless, which is the exclusive carrier of Droid-branded smartphones. It's not the first time we're hearing about
a Droid Turbo sequel
, but now we can actually see the handset (both front, and rear sides are visible).
Reportedly, the Moto X Force / Droid Turbo 2 is powered by an octa-core Snapdragon 810 processor, and sports a shatterproof
5.4
-inch Quad HD display - slightly larger than the 5.2-inch Quad HD screen of the
original Droid Turbo
. The new handset should also offer a 21 MP rear camera, 3 GB of RAM, 32 GB or 64 GB of internal memory, and a 3760 mAh battery.
Outside of the US, the Moto X Force is expected to be
launched in December
for about $620. We assume that Verizon will release its Droid Turbo 2 at about the same time, or even earlier. But we'll see what happens.
Motorola Droid Turbo 2 (plus Moto X Force renders)
source:
@upleaks