Motorola sees shortages of the DROID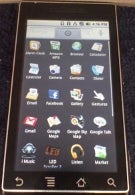 Despite being surpassed specs-wise by the Nexus One, the Droid Incredible and the EVO 4G-the Motorola DROID remains very much in demand. Motorola CEO Sanjay Jha said today, "(DROID) sales are going extremely well," Jha said. "If I could build more I'd sell more." Part shortages along the production line are leading to shortages of the handset. The DROID is credited with starting the latest wave of Androidmania. Long suffering Verizon customers, faced with so-called tepid iPhone killers like the LG Voyager, the LG Dare and the BlackBerry Storm, finally had a phone that could go head to head with Apple's touchscreen device when the DROID was launched. As we
reported
, some independent firms were saying that Verizon had sold 1.2 million units of the DROID in the fourth quarter of last year.
Jha was speaking at an Executives Club event and announced that his company would be launching 2 to 4 handsets with a front facing camera, before the end of the year. This will help the manufacturer compete with the video calling features on the EVO 4G and the new iPhone 4. Verizon followed up on the Motorola offering with the HTC Droid Incredible which featured a faster 1GHz Snapdragon processor and an 8MP camera. However, shortages of parts used to make the Samsung manufactured 3.7 inch AMOLED display has led to long wait times for Big Red customers, some of whom turned to the Motorola device instead. One advantage that DROID users have is that because their phone runs stock Android, it is expected to receive upgrades faster than other phones with MOTOBLUR or Sense loaded over the Android OS. Many expect the model to be the next in line to receive the Android 2.2 Froyo upgrade. A sequel model to the DROID has
recently been
photographed and a keyboard allegedly belonging to the DROID 2 (A955) has also
been snapped
.
Motorola DROID Specifications
|
Review
HTC EVO 4G Specifications
|
Review
HTC Droid Incredible
|
Review
source:
Reuters