Motorola releases timeline for Android 2.1 update
16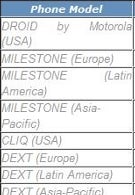 After it appeared that Motorola was pulling an upgrade to Android 2.1 for the DROID this week, the company didn't want to have any more confusion over whom said what, when and to whom. So, the Schaumburg based company decided to cook up a little schedule that gives us a better idea when to expect each eligible Motorola Android model, to get the OTA upgrade, to 2.1. According to the schedule, the first device up for an upgrade to Android 2.1 is...The Motorola DROID. No surprise there. According to droid Life, the update will be coming out "soon". That is closer than "whenever" but longer than "done". Over in Europe, the DROID's sister device, the MILESTONE, already supports pinch-to-zoom in the browser. Unlike the DROID's version of 2.1, the MILESTONE will not have the news and weather widgets that we've already seen on the Nexus One. The upgrade will come in the first quarter of 2010. Two other versions of the Motorola MILESTONE, the models for Latin America and the Asia-Pacific, are undergoing evaluation and no upgrade time has been announced.
In the second quarter of 2010, those owners of the Motorola CLIQ should see an upgrade to Android 2.1. The overseas name of the handset is the Motorola DEXT and the Latin American model will get Android 2.1 in this year's 3Q as will Asia-Pacific DEXT owners. European users should know that there is no set upgrade date for their DEXT as the move to Android 2.1 there is under consideration.
The link to the timeline came from a Motorola Forum manager...no, not the same one that started off this mess last week when he posted and then was forced to remove a list of what changes Android 2.1 will bring to the DROID. For what it's worth, we think that it will end up being that the list was right on the money.
source:
droidLife