Motorola files second appeal against dismissal of its ITC claims against Apple
7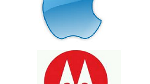 Motorola has put the U.S. Court of Appeals for the Federal Circuit on notice that it
plans to appeal
the ITC's dismissal of a case Motorola had filed against Apple. This is the second time that the wholly owned Google subsidiary is challenging the dismissal of its claims. The ITC threw out three other Motorola patents in the suit back in August.
The court last month ruled that Motorola's last standing patent related to the case, for a proximity sensor,
was invalid
. U.S. Patent No. 6,246,862 covered a system that prevented a touchscreen from registering accidental touches during a phone call. Motorola argued that the prior art that Apple said quashed the patent was for handsets with buttons, not for the touchscreen devices that Motorola's patent covered.
As for the three other patents, Google appealed the decision in September and that appeal is ongoing. Google filed its opening brief in February and the ITC, along with Apple intervening on its behalf, responded on May 6th. Google will file a response and then a hearing will take place. Just Thursday, a court ruled that Microsoft did not infringe on the sam,e
For those who love to dress up and pretend that they are Perry Mason, feel free to read the filing below.
source: FOSSPatents, Scribd via AppleInsider