Motorola exec says all current smartwatches are "pretty crappy"
25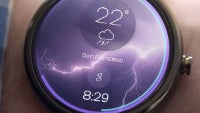 It has been pretty clear since the first time we saw the plans for the Moto 360 that Motorola is aiming high with its newest wearable device. Given that, it might not be such a surprise that a Motorola exec has gone on the record as saying that the current set of wearable devices are "pretty crappy". Those are strong words, but maybe not all that far off.
The quote comes from Mark Randall, Motorola's Senior Vice President of Supply Chain and Operations, in talking to
TrustedReviews
. He started off pretty well, saying that the Moto 360 "solves a lot of problems that no one else has solved in the wearables space." Interestingly, Randall went on to say, "We look at the 360 and we look at what everyone has done in that space. To be honest we think they are all pretty crappy."
A lot of this remark seems to be focused on the overall "sexiness" of the wearables on the market. Randall believes (probably fairly accurately) that the majority of the wearables on the market don't pass the test in terms of being fashionable items, which is one of the higher aims of Motorola's wearables. Even before talking about functionality, Motorola believes that wearables need to be... well,
wearable
. It needs to be something that you want to wear every day, and that is the aim for the Moto 360.
Even better, Randall said that Motorola "will have more announcements throughout the year and we will have further announcements on other product categories." Other product categories is certainly interesting. That could mean a wearable in the vein of Google Glass, or it could be a phablet or tablet, both of which would be new product categories for Motorola.