Motorola breaks a Galaxy S7 and an iPhone 6s in these new Droid Turbo 2 commercials
26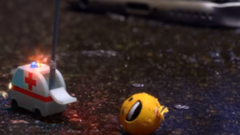 Available exclusively on Verizon since October, the
Motorola Droid Turbo 2
is now overshadowed by the batch of newer and more powerful smartphones released this year, and yet it's still got a feature that no other handset is offering: a shatterproof display.
Thanks to what Motorola is calling
ShatterShield technology
, the 5.4-inch Quad HD display of the Droid Turbo 2 is guaranteed not to crack or shatter for 4 years. Numerous
drop tests
have confirmed the fact that the screen of the Turbo 2 is indeed invincible, even surviving drops from 50 feet (15 meters).
To remind everyone about how tough the display of the Droid Turbo 2 is, Motorola today released two short video commercials. The first commercial features a
Samsung Galaxy S7 edge
that easily shatters when dropped, while the second one shows an
iPhone 6s
which is also heavily damaged when hitting the ground. Motorola doesn't actually mention the name of these devices, but we can easily recognize them. Both videos end with Motorola praising the Droid Turbo 2's shatterproof screen which "can save your world."
Verizon is currently selling the Droid Turbo 2 for $24 per month (for 24 months), or $624 off contract. The smartphone is also available outside the US as the
Moto X Force
. If you want to find out more about the device, check out our
Motorola Droid Turbo 2 review
.
Would you buy a Droid Turbo 2 / Moto X Force now for its shatterproof screen?