Motorola TRIUMPH Hands-on
16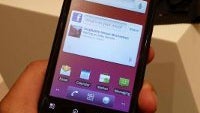 Even up until now, we still rarely find that many high-end prepaid Android powered smartphones in the market – especially out of Motorola's camp. In fact, the only one that truly stands out is the rugged, yet extremely outdated Motorola i1. We all know that Sprint is going to be graced with
Motorola PHOTON 4G this summer
, but for those Virgin Mobile customers, they still have something to look forward to with the
Motorola TRIUMPH
when it launches at around the same time period as well.
Strangely, our first impression about the TRIUMPH is that it has a
stark resemblance
to the original Motorola DROID – sans the physical keyboard, but packing a much larger display. As you can tell from the shots, it has a different design approach to the Photon 4G and similarly retains that straight angular slope towards the bottom portion of the handset that we see on the DROID. Clad in a
black soft touch matte exterior
, it's undoubtedly clean looking for the most part, but you can't stray from the fact that it appears rather boxy in form. Nonetheless, it generally feels solid for a prepaid phone – and it's definitely a nice start with Virgin Mobile.
Even though it might not be perceived to be a high-end competitor in the greater scheme of things, especially compared to some of the dual-core packing devices out there, the Motorola TRIUMPH is nonetheless admirable with its contemporary hardware. Specifically, it features a 4.1" WVGA display, 1GHz Snapdragon processor, 5-megapixel auto-focus camera with LED flash, front-facing camera, and is powered by what looks like a
stock Android 2.2 Froyo experience
. Virgin Mobile sprinkles the handset with their love in the form of the
Virgin Mobile Live 2.0 app
, which is basically a social networking focused streaming service.
At this point, Virgin Mobile customers should very well be excited since the Motorola TRIUMPH is shaping up to be one snazzy looker when it's released. However, it'll be interesting to see what kind of pricing we'll see with it. Sure it's a top-notch smartphone on paper, but we're curious to see how much people are willing to spend in order to experience it.
Recommended Stories