Motorola RAZR V is announced for South Asian markets
9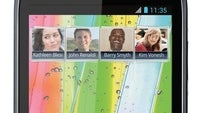 The Motorola RAZR V was officially announced today becoming the latest member of the company's stylish lineup. It is bound for markets across South Asia, including India, Indonesia, Malaysia, Singapore and Thailand.
Think of the Motorola RAZR V as a cheaper alternative to the
Motorola RAZR
. It may not be as svelte as its stylish sibling, but it still manages to impress with a waistline of 8.35 millimeters. Underneath the RAZR V's hood we have a dual-core processor clocked at 1.2GHz, possibly identical to the one we have in the RAZR. The display measures 4.3 inches in diagonal and has qHD resolution (540 by 960 pixels). On its back is located an 8-megapixel camera capable of shooting 1080p video at 30 frames per second.
Something that Motorola flaunts is the ColorBoost display technology, which enhances color representation and improves sharpness. Another feature that comes pre-loaded is Smart Actions, which works as a task scheduler. For example, you can use it to set the smartphone's volume to mute while you are at work, reduce its brightness once the battery level drops to a certain point, or to turn off email notifications at night. Android 4.0 Ice Cream Sandwich comes out of the box.
The Motorola RAZR V will be available in three different colors: Charcoal, Glacier White and Rebel Pink. Expect seeing it on shelves at some time during Q3 of 2012.
source: Motorola
Motorola Mobility Extends the RAZR™ Family in South Asia with Motorola RAZR™ MAXX and Motorola RAZR™ V
The long-lasting Motorola RAZR MAXX and the all-new Motorola RAZR V come to India, Indonesia, Malaysia, Singapore and Thailand
SINGAPORE – 20 June 2012
– Motorola Mobility is bringing the longest-lasting smartphone on the market today, Motorola RAZRTM MAXX, and the sexy yet affordable Motorola RAZRTM V to India, Indonesia, Malaysia, Singapore and Thailand. Motorola RAZR MAXX will be available with Android™ 2.3 (Gingerbread), and will receive an over-the-air upgrade to Android 4.0 (Ice Cream Sandwich) soon after. Motorola RAZR V will be available with Android 4.0 during the third quarter of the year. Specific availability information for both devices will be announced closer to the retail launch dates.
Both smartphones sport the iconic RAZR design, with the same sculpted face, diamond-cut aluminum accents Not only are they gorgeous, they're also made to last, with KEVLAR® fibre for strength and scratch-resistant Corning® Gorilla® Glass. Caught in the rain? Spill your coffee? Fear not. Motorola RAZR MAXX and Motorola RAZR V have a splash-guard coating that keeps everything safe – including the electrical boards inside.
Motorola RAZR MAXX – the longest lasting smartphone on the block
With the longest battery life of any smartphone today, this device has enough juice for 17.6 hours of talk-time – on a single charge. And because it's in the Motorola RAZR family, it has the same incredibly thin, fast and light pedigree as the groundbreaking original Motorola RAZR smartphone. It has a vibrant 4.3-inch Super AMOLED Advanced display that features a wider range of colours than most LCD HDTVs. Plus at just 8.99 mm, Motorola RAZR MAXX is still impossibly thin.
For aspiring filmmakers, forget about buying expensive, clunky equipment to shoot your first masterpiece. Instead, take advantage of Motorola RAZR MAXX's 8-megapixel rear-facing camera with 1080p video capture for crisp, clear, cinematic-quality images. Or, simply use it to chat with a friend using the front-facing HD video camera.
The Motorola RAZR MAXX is also "Business Ready," featuring government-grade encryption that protects your email, contacts and calendar. Even the strictest IT manager will be impressed.
Motorola RAZR V – iconic styling and mind-blowing thinness for your budget
At an amazing 8.35mm thin, the Motorola RAZR V makes the iconic RAZR family styling and quality available to everyone. This big-screen beauty is surprisingly compact and light, and feels great even in smaller hands. Thanks to ColorBoostTM display technology, the Motorola RAZR V boastsextremely vibrant colours for better clarity and sharper images. With Charcoal, Glacier White and Rebel Pink options, subject to market availability, you can choose the colour that reflects your own personality and style. And while the Motorola RAZR V comes at a surprisingly affordable price, it gives away nothing in performance, thanks to its dual-core 1.2GHz processor.
Unique to Motorola Mobility smartphones, including Motorola RAZR MAXX and Motorola RAZR V is Smart Actions – a tool that lets you automate your phone's settings throughout the day. For example, you can set your phone to automatically turn off its ringer when you get home from work, set it to turn off emails while you sleep, or dim the screen when battery life gets below 30 percent. Essentially, Smart Actions manages all of the little things that add up to make all the difference in the world – all while extending your phone's already long battery life.
"RAZR is synonymous with design excellence and both Motorola RAZR MAXX and Motorola RAZR V reflect that,"said Robert van Tilburg, senior regional sales director, South Asia, Motorola Mobility. "With its fantastic battery, Motorola RAZR MAXX is in a class of its own. Not only do you get everything you love about the Motorola RAZR, but now you get the power to last through marathon calls, hours of surfing the Web, or streaming movies. You'll drop long before this phone ever does. With Motorola RAZR V, we've created the perfect smartphone for stylish, smart and tech-savvy consumers who want great looks, great performance and great value."
Motorola RAZR MAXX will start shipping in end-June with the exact availability and prices in each market to be announced closer to the retail launch. Motorola RAZR V will be made available in Q3 of 2012.