Motorola PHOTON 4G to launch July 31st from Sprint for $199.99
21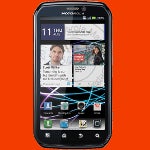 Sprint customers have another
high powered Android device
coming as the Motorola PHOTON 4G will launch on July 31st. Sprint not only announced the launch date, but also passed along the price of the device which will be $199.99 with a signed two-year contract. The phone is the
first WiMax enabled device
to come from Motorola.
The Motorola PHOTON 4G will feature some high-end specs such as the 4.3 inch qHD touchscreen which will be able to withstand the typical rough and tumble smartphone use thanks to
Gorilla Glass
. A dual-core NVIDIA Tegra 2 chip running at 1GHz is under the hood while 1GB of RAM is on board. On back is an 8MP camera with dual LED flash. A VGA front-facing camera takes self-portraits and works great for video chats. The PHOTON 4G comes out of the box with 16GB of memory that can be bumped to as much as 48GB using a microSD card. Up to 8 devices can be supported on Sprint's 3G/4G pipelines using the model's Mobile HotSpot capabilities.
Sprint Premier customers will get a chance to order the Motorola PHOTRON 4G up to
3 days earlier
than "regular" Sprint customers. Premier customers can order the phone starting July 28th, online only. And of course, a device like the Motorola PHOTON 4G deserves some nice accessories. Sprint will be offering a holster and shield combo for $24.99. A protective gel cover will cost $19.99 and will be available in purple only. And a two-piece grey cover slides together to protect both the top and bottom of the unit. That case will cost $21.99.
Sprint customers with an
update in their pocket
now have a tough choice to make-pick up the HTC EVO 3D or the Motorola PHOTON 4G. Which one would you want in your hand?
source:
Sprint