New Motorola Moto G7 series price cuts available now
9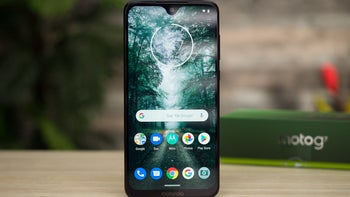 Since Motorola launched the Moto G7 smartphone series in the US some months back, all G7 models have seen
price cuts
at some point or another. Now, the unlocked
Moto G7
,
Moto G7 Power
, and
Moto G7 Play
are once again discounted, although not directly by Motorola. To get tempting discounts on these three phones, you currently have to purchase them from Best Buy.
At this very moment, Motorola is selling the regular Moto G7 (pictured above) for $299.99, but Best Buy lets you get it for $269.99, no strings attached. Prices go even lower when you activate the phone on select carriers. With activation on Sprint, the Moto G7 can be had for only $169.99 (that's $130 off the normal price), while it costs $219.99 if you activate it on Verizon, or $249.99 if you activate it on AT&T.

Furthermore, the Moto G7 Power is sold by Best Buy for just $129.99 with activation on Sprint, $179.99 with activation on Verizon, or $199.99 with activation on AT&T. You can also buy the device at $229.99 with no strings attached (at Motorola, the phone is sold for $249.99).
Finally, the Moto G7 Play is available at Best Buy for $79.99 if you don't mind activating it on Sprint, $129.99 with Verizon activation, or $149.99 with AT&T activation. Best Buy also lets you get the G7 Play for $179.99 without activation (while Motorola currently asks $199.99 for it).
Get these deals at Best Buy HERE