Motorola MOTOSPLIT to have dyamically changing keyboard like the Alias2?
3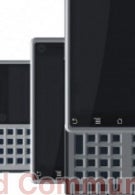 When we last
reported
on the Motorola MOTOSPLIT, we told you that it was a high end device that had a landscape layouit with two "split" halves of a QWERTY keyboard that unfolded like the Nokia 6820 to create a whole keyboard. However, new info from a tipster for Android Community is passing along a different story. According to this source, under the finger-friendly cut outs is a low resolution monochrome touchscreen, one for each side of the keyboard. The legend of each key changes depending on the layout and the application being used. They keyboard can be pulled from side to side for typing on a surface and a kickstand angles the phone for typing in this manner. Pulling the keyboard to the left reveals a standard landscape QWERTY and there also is a layout for a dial pad. As for the specs, the MOTOSPLIT is said to be borrowing heavily from the BACKFLIP with the same processor and everything else under the hood is expecxted to be just like the latter. The info goes to add that the phone should be offered on AT&T with a 3Q later. For those who have seen the Samsung Alias2 in action, the dynamic keyboard changes the legend on each key depending on if you have opened the phone in lanscape or portait mode, and also depends on the application you are using. Imagine having a QWERTY keyboard when you need one and then it changes to a dial pad when called for (no pun intended). Add Android and the MOTOSPLIT sounds like an interesting concept.
One last note. Engadget is questioning the specs under the reasoning that the BACKFLIP processor is too old school and that every 2010 produced midrange phone from here on out will use the same model as in the Motorola DEVOUR, the Qualcomm MSM 7227 or 7627. The proof will be in the pudding, as they say.
source:
AndroidCommunity
via
EngadgetMobile