Motorola Droid Bionic gets torn down: scores great in repairability
5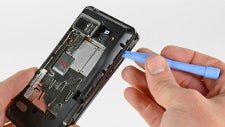 The
Motorola Droid Bionic
was launched only last week, but the phone surgeons from iFixit already tore it down to reveal all of its internals and check just how easy it is to repair the dual-core LTE-enabled Verizon handset. The Droid Bionic was praised for its parts, which for the most part were easy to access and replace.
The microSD and SIM card slots could be accessed without any external tools, while popping the back cover was also pretty easy giving you quick access to the battery of the handset. The 1735mAh juicer on the Bionic could also be replaced with a supersized
2760mAh battery
, but this would make the hump on the back of the Bionic even bigger. Motorola has crafted the Bionic so it's held by a small number of screws and plastic clips and adhesives were barely used, which also improves the ease of repair. Actually, you'd
only need one screwdriver
to take apart the whole phone!
There were some minor downsides like the need to fully disassemble the phone in order to change the LCD or front panel, but that didn't keep the Bionic from scoring
close to the highest at 9 out of 10 for repairability
. The whole process is pretty entertaining for your average phone geek, so feel free to hit the link below with a step-by-step guide to tearing down the Motorola Droid Bionic.