Motorola DROID owners to get FRG22D update on Tuesday, will allow Flash Player 10.1 to install
32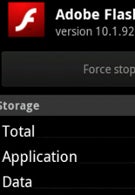 The day that many Motorola DROID owners have been waiting for should be here Tuesday when Verizon sends out an OTA upgrade (FRG22D) to owners of the original DROID. Once the software has been installed on the phone, users will be able to download the Adobe Flash Player 10.1 from the Android Market. After that occurs, the handset will be able to show Flash animation and video where previously it rendered a blank box or a warning to download Flash.
As we
reported
, Verizon had decided to send the FRG01B build of Android 2.2 to owners of the 2009 Time Magazine Gadget of the Year last week, and follow that up with the upgrade being sent out tomorrow. A trip to to the Android Market will be the final step necessary to install the actual Flash Player, which is similar to the steps taken by Nexus One owners to allow Flash to play on that device.
Later this summer, the supersized Motorola DROID X is expected to receive the Froyo upgrade while the Motorola DROID 2 was recently launched as the first handset to come with Android 2.2 and Flash Player 10.1 out-of-the-box.
Motorola DROID Specifications
|
Review
Motorola DROID X Specifications
|
Review
Motorola DROID 2 Specifications
|
Review
HTC Nexus One Specifications
|
Review