Motorola DROID XYBOARD 8.2 benchmark tests
7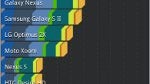 Less than 10 months after debuting Google's first ever tablet-optimized platform with the
Motorola XOOM
, we're already seeing Motorola's second-generation Android tablets on sale and ready for the taking. This time however, the
Motorola DROID XYBOARD 8.2
is packing a 1.2GHz dual-core TI OMAP 4430 processor, which will hopefully provide enough muscle power to offer us a decent experience.
Although it's mostly responsive out of the box, we do notice just a tiny bit of
choppiness
while navigating its homescreen with a static wallpaper. Switching over to a live wallpaper, it's still able to exhibit a responsive rate without compromising that much with its movement – yet, it doesn't have that buttery fluid nature we're desperate to see. Nevertheless, we're content with its overall performance so far out of the box and operates very similar to other Honeycomb tablets in the past.
Running the
Quadrant
benchmark test a few times, it doesn't hit any earth shattering results, as we're able to get scores ranging between 2,718 and 2,862 – so yeah, it's very consistent, but lags behind some of the benchmark devices out there. In addition, with the
AnTutu
benchmark test, the DROID XYBOARD 8.2 spits out a total score of
5,539
, which again isn't all that mind-boggling. In fact, it's able to meet the mark established by the Samsung Galaxy S II and Galaxy Nexus.
Are we saddened? Not so much, since it's the typical thing we're normally exposed to with most Honeycomb tablets, but it's able to
beat out the original Motorola XOOM
, which had Quadrant and AnTutu benchmark scores of 2,249 and 2,296 respectively. For now, we'll be a bit reserved until what we see with further testing.