Motorola XOOM benchmark results
19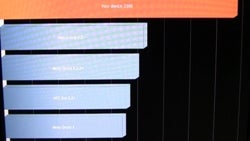 The
Motorola XOOM
is one impressive device, and part of that is due to the Nvidia Tegra 2 processor zipping along with 1GHz dual-core goodness.
We've been using the XOOM for a few days now, so we decided to see how it would square-off on some standardized benchmark programs. The first one we used was Quadrant. We tried it a few times during the day, and got scores between 1850 and 2100 on average, but did get up to 2249. On our video below we achieved a score of 2200. The second program we used was AnTuTu System Benchmark, which we averaged between 2266 and 2296. It shows detailed scores for each category: Memory 365, CPU Integer 694, CPU Float 511, 2D Graphics 149, 3D Graphics 189, Database I/O 20, SD Card Write 150 (16.8 MB/s), SD Card Read 188 (19.5 MB/s) - but keep in mind that is testing the internal 16GB memory, as the microSD memory card slot does not work with the current version of Honeycomb.
Naturally, you can attempt to root your XOOM and increase the clock speed to 1.5GHz,
as this guy did
to get a Quadrant score of 2854.
If you have the Motorola XOOM, be sure to post your benchmark speeds below.