Motorola DROID RAZR HD and DROID RAZR M developer editions incoming
4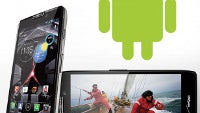 Most smartphone owners don't fall into the so-called "power user" category. They just check their email, keep an eye on their Facebook feed, play a game or two every once in a while, and don't get involved with any advanced activities like rooting, custom ROM flashing, or software developing.
On the other hand, there is a niche of users that demand a smartphone that is suitable for software testing – a smartphone that doesn't pose any limitations when it comes to tinkering with the operating system or the apps that are installed on it. This is the kind of users that Motorola will be targeting with the developer editions of its newly announced smartphones.
Developer editions of the
Motorola DROID RAZR HD
and
DROID RAZR M
are now listed on the company's web site, and the latter is even available for pre-order with an estimated shipping date of September 13. The DROID RAZR HD cannot be pre-ordered yet, but those who are interested can register for e-mail updates.
Anyone who is interested can simply follow the source link below. Just keep in mind that a developer edition Motorola DROID RAZR M does not qualify for carrier subsidy, which is why it is priced at $550. Besides, it will not be covered by warranty for obvious reasons.