Moto X Style camera samples showcase the new Sony IMX 230 camera sensor's potential
30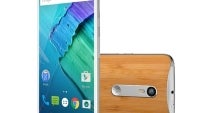 Last November, Sony announced its most promising camera sensor ever,
the 21MP IMX230 chip
. This is a stacked sensor in which Sony used plane phase detection autofocus in a phone sensor for the first time. The technology is lifted straight from mirrorless cameras with interchangeable lens, which is how the gap between smartphones and consumer-grade cameras keeps shrinking. That, and the addition of 192 AF points enables tracking and photographing fast moving objects.
Needless to say, we were rather intrigued by the progress in Sony's camera technology, as their camera sensors (and the crafty software engineers putting them to good use) have been the most formidable force in driving smartphone photography progress. But it did take a while before we had an opportunity to finally see the IMX230 sensor in action, as the component was fired into mass production no earlier than April this year. Just in time for Motorola to put it inside the new Moto X Style, it turns out!
The specs for the camera sensor remain the same as what was announced about 9 months ago - it's a 21MP resolution unit with 1.1 micron-sized pixels, 1/2.4 sensor size, Phase Detect Auto Focus, and HDR video recording (1080p and 4K resolution). There's a dual-LED flash on-board as well.
Lucky for everyone interested, Digital Photography Review snatched a Moto X Style and published a detailed analysis of its camera performance, complemented with a gallery of sample images. At a glance, things look great! In daylight situations, Moto's flagship smartphone captures an impressive amount of fine detail, without introducing undesirable processing such as oversharpening. The IMX230-equipped handset preserves colors that seem natural and properly exposed.
In night and general low-light scenarios, the Moto X Style's camera deals very well with white balance, despite light coming in from a variety of different sources. Even poorly lit scene elements retain a good amount of information, while brightly illuminated parts come off with plenty of detail.
The entire material is available in the source link below, and has certainly given us positive expectations of the Moto X Style and Sony's IMX230 camera sensor. As usual, we'll save the final judgement for our review of the handset.
source:
Digital Photography Review