Moto Maker is Santa's workshop for your custom-tailored Moto X, exclusive to AT&T
23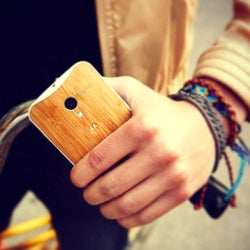 Choose from 18 back colors, custom boot messages, 2 storage sizes, 7 accent colors, 16 unique wallpapers, engraving for the back cover, 2 front colors, the color of your charger and match the in-ear headphones with your
Moto X
- all this will be available for AT&T customers if they opt for the Moto Maker option upon purchase, instead of just getting the black or white ones in the store.
The way it works is you drag yourself to the nearest store, check out all colors with physical samples in there, pick your looks, and get a redemption card. These come in two versions, for 16 GB or 32 GB of internal memory, and you have to set a contract plan with the sales associate before you pay and take off.
Once home, scratch the redemption card for the PIN, and enter it at
Motorola.com/designit
, then assemble your Frankenphone with the above options. Alternatively, you can just go to
Motomaker.com
, and start from scratch, but you won't be able to see how the colors actually look outside of your monitor. Easy-peasy, and Motorols will ship your phone in just a few days, with all the bells and whistles you chose, depending on components availability. If you don't like the end result, you can return it to Moto or exchange it within 14 days for free (30 days in California).
Did we mention headphones? With Motomaker, you can get unique SOL REPUBLIC gear in the headband and cable color that matches your phone's color chosen. Awesome, ain't it? Coming to other carriers later on this year, says Moto.