Moto GamePad hands-on: Super-charge gaming with the new Moto Mod
9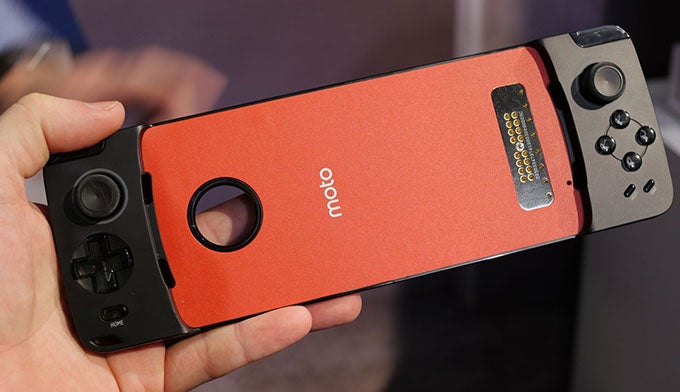 Last year, Motorola opened the door on hardware expansion for its smartphones with the launch of the new Moto Z series, complete with support for
Moto Mods add-ons
. While we got a decent selection of Moto Mod options in that first batch, including some interesting ideas like a
portable projector
, a modular platform is going to live or die based on the amount of hardware support it sees; would Motorola be in this for the long haul?
The good news there is that the answer seems to be "very much yes," and 2017 has already seen the launch of a bunch of new Moto Mods, including the brand-new
Moto 360 Camera
, just introduced yesterday alongside the Moto Z2 Force. And though these new Moto Mods have been great to see, for months now there's been a question hanging over our heads: Where's the Moto GamePad?
Motorola first confirmed the GamePad back at the end of February
, but had little to say about its release beyond that we could expect the accessory to land sometime this summer. As we still wait to learn the specifics to the start of sales, we finally got the opportunity to go hands-on with this upcoming hardware at the Moto Z2 Force launch event.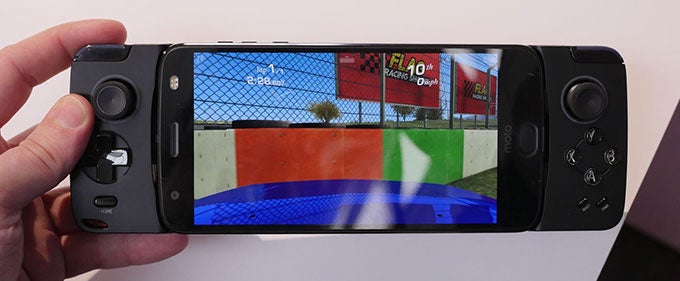 Design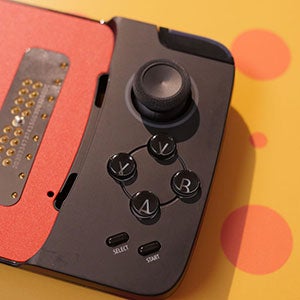 Attach your Moto Z-series phone to the Moto GamePad and you instantly transform the handset into a wide-format handheld gaming console. That's a layout that's been popular from decades, from the early days of the Atari Lynx, to the Sony PSP, and most recently with the Nintendo Switch. Just like on that hardware, the Moto GamePad gives us an analog thumbstick – one on each side – a directional pad on the left, and four action buttons on the right. We've also got left and right triggers up top, and a series of home, select, and start buttons for menuing.
Those shoulder buttons each conceal an illuminated strip, which lights up in response to controller input. And if you flip the GamePad over, the Y-shaped window on the controller's back similarly glows.
The power to run those lights comes from the GamePad's on-board battery, a 1,035mAh component. You can fill that up with the help of a USB Type-C port located alongside the controller's bottom edge. And next to that charging port is an analog headphone jack. That's useful on any Moto Z-series phone, as the body of the GamePad is built such that it blocks access to a phone's built-in headphone jack, but it's especially useful on non-Play models that lack analog headphone jacks altogether – no need for an adapter dongle when you're playing on the GamePad.
Impressions
For gamers used to touchscreen input on smartphones, the Moto GamePad represents a world of improvement; it's difficult to understate just how much better playing a game feels when you're working with dedicated hardware controls. Everything's more responsive, you feel much more in command of the action, and you're never at risk of blocking the screen with your fingers.
The thumbsticks themselves feel quite robust, and their textured surface and concave tops make them easy to interact with.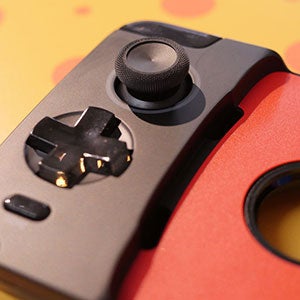 The fact that we're dealing with a wired Moto Mods connection, rather than a wireless Bluetooth connection to a third-party control pad, helps reduce input lag to minimal levels – this is about as close as you're going to instantaneous response from a controller on a smartphone. And while that's not always a critical factor in being able to enjoy a game, the seamlessness with which you can control apps really can help further immerse you in your gaming experience.
Maybe our one biggest concern with the GamePad is battery life. Motorola quotes eight hours of usage on a charge, and while that sounds decent, it won't take more than a few extended sessions before that starts running down. We're also not quite convinced why the GamePad needs its own battery in the first place, since even complex Mods like the Hasselblad True Zoom camera managed to run off phone power; could the GamePad really consume that much juice?
For now, though, we're waiting for details on what may be the biggest factor that ends up affecting GamePad adoption: price. So far, Motorola hasn't shared any details, but we'd love to see this come in for $60 or less – we're not holding our breath. We're also curious to learn when sales will actually start, but again Motorola is mum on details, having said no more than to expect the GamePad to arrive before the end of summer.
Until you can get your hands on a Moto GamePad of your own, check out our new hands-on video, as well as a GamePad image gallery: