Motorola Moto Z2 Force and 360 camera mod hands-on
9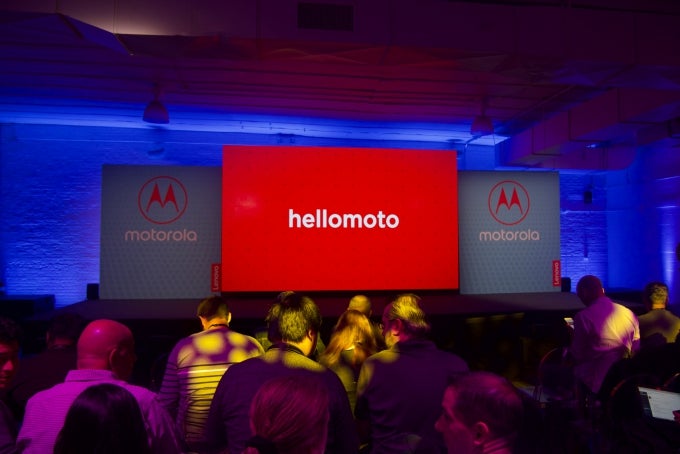 Today is the (ongoing) launch event for the Moto Z2 Force.The Z2 was accompanied by the unveiling of two more Moto Mods, as well: the 360Camera Mod which launched today, and the Moto Gamepad, which is said to launch laterthis summer. Motorola's also throwing a full-blown launch party for the Z2Force later today, but in the mean time we figured we'd break you off with a littlepreview of the two products launched today.
Ta-da! Here it is, the Moto Z2 Force, in all itsunbreakable* glory.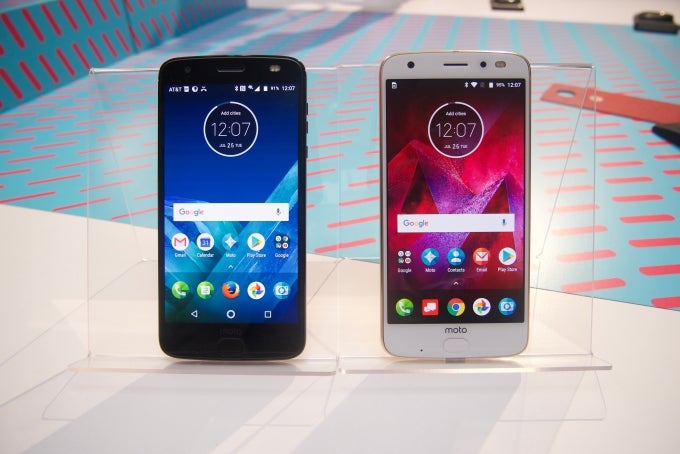 *The Z2 Force is said to be unbreakable from drops as highas five feet. Of course, invincibility isn't its only trick; the devicealso carries dual 12 MP sensors, which are capable of a number of shootingmodes. Among the modes mentioned, of course is portrait mode, as well asselective auto-focus, selective black and white, and true black and white photocapture. Packing the octa-core Snapdragon 835 clocked at 2.35 gHz, the devicecomes with 64 GB of storage and 4 GB of RAM, with the ability accept up to 2 TB'sin micro-sd storage.
Design
The Moto Z2 is constructed from 7000 series machinedaluminum, which is diamond cut to achieve its slick lines and textures.Measuring in at only 6.1 mm in thickness, it's less than a millimeter thicker thanthe ultra-slim original Z2 and noticeably thinner than last year's Z2 Force. Italso shaves 20 grams off the weight of the original Force, thrusting itselffurther into the flagship radar. The phone feels nice in the hand; it's sharpernon-bezeless design catches our palms for a good grip, and the 5.5-inch ShatterShieldscreen is nestled away safely and comfortably within this frame.
Display
UI and Performance
Motorola's lightweight,near-untouched Android versions continue to flow on in their latest devices. Naturally,the less stuff, the better the performance – ask Samsung's extinct TouchWizabout that. The only addition we see here is an expansion on the Moto VoiceAction, now dubbed "Show Me." Just like the swipe gestures, night mode and MotoDisplay actions, this is nestled away in the Moto app. Without going the routeof a full-blown assistant – which the Z2F already has in the form of GoogleAssistant – Motorola's new action offers users another way to get tasks done,or see what tasks they have on the docket. Essentially, the phrase "show me"replaces the trigger phrase used previously for Moto Voice. Additionally,card-like menus appear on screen with the content or action you requested. Forinstance, simply say "show me my calendar" to see your calendar and relevantinformation on which – a more natural way to communicate vocally.
Motorola's also added somefunctionality to Moto Display – specifically, in-line text reply. That's right,now you can answer text messages, and possibly more, all without needing tounlock your phone. This is a feature we're sure many will be happy to enable.
As expected, the device hums alongunchallenged by regular navigation and app switching/launching. We'll have morein-depth results on performance though when our full review is posted, but ofcourse, these specs and UI don't seem poised to disappoint. But, we will see.
360 Camera Moto Mod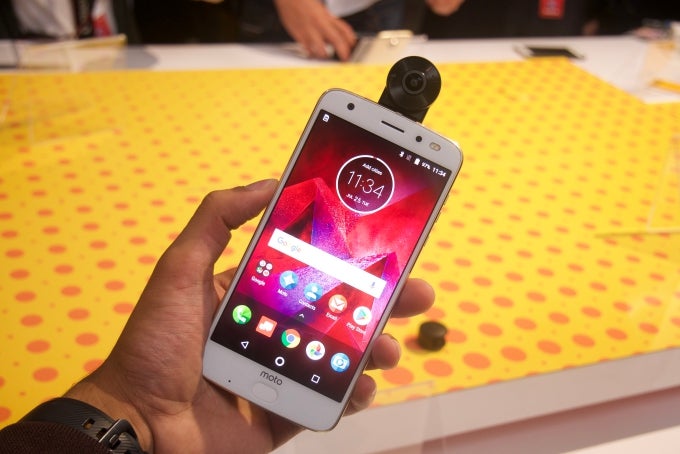 Motorola also launched their 360Camera Moto Mod today. Offering users the ability to scroll through a 360degree space for picture capture, this mod retails for $299.99 and has somenifty features. Within the device lies its own built-in editing software, whichusers can launch on the phone right from the cameras interface. In here you'llfind options, to trim clips, add effects, and perhaps coolest of all – excise flat1080p video from the 360 degree clips. This is achieved by simply flicking yourfinger through the 360 degrees of video to direct it through the piece you'dlike to export as flat video. Essentially, this video lets you jump into yourvideos 360 degree experience as though you were in it, and "look around" toisolate the video and audio track you'd like to extract. The use of 3D audioaids this function by correspondingly orienting the sound with the video trackbeing extricated. Pretty cool stuff.
Price and release date
The Moto Z2 Force is available forpre-order now on all major U.S. carriers, with international markets all set toreceive the phone later this summer. Retailing at $720, pre-orders will arriveon August 10th bundled with a free projector Moto Mod for a limitedtime – a $300 value. The 360 Camera mod is also up for pre-order for $299.99,but does not have a definitive arrival date listed on Motorola's website.Details on when the projector offer ends are below. Anyone picking these up?
Pre-Order on Motorola's website now!
End dates for free projector mod offer:
1. Verizon:September 13, 2017
2. Sprint:September 14, 2017
3. AT&T:October 6, 2017
4. AllOther Carriers: September 9, 2017
UPDATE: The article incorrectly stated that the retail price was $799 when it is in fact $720, apologies for the confusion.
Motorola Z2 Force