Motiif "M" smart trench coat charges your phone, provides 4G connectivity
6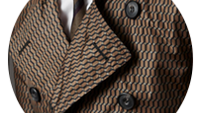 Imagine being able to look smart and fashionable while charging your phone and making sure it has a 4G connection. That is the idea behind the Motiif "M" smart trench coat. This exactly what the well-dressed and well-connected spy or detective will be wearing this season. Our only surprise is that we didn't see this first on Shark Tank. And for those who are worried that the charger will ruin the sleek look of the coat, don't worry about it. The trench coat is designed to hide all of the extras so that no one will suspect that you are charging your smartphone while looking like a million bucks.
The charger works wirelessly and is located in the breast pocket. It will work with the
Apple iPhone 4
,
Apple iPhone 4s
,
Apple iPhone 5
and
Apple iPhone 5s
according to Motiif's founder Rafael Balbi. Balbi says the charger will also work with the
Samsung Galaxy S III
and the
Samsung Galaxy S4
. The coat is expected to be able to provide enough power to charge your handset "three times over". To recharge the coat, you hang it up using a hanger that sports a wireless charging pad.
The 4G connectivity comes via Karma's PAYG network, although coat owners will get 1GB of free data for the first three months they own the coat. After that, you will pay $14 for each 1GB consumed. Karma's service uses Sprint's 4G network which reaches 80 U.S. cities and 135 million people. Average data speeds are 3Mbps to 6Mbps down, with peaks as high as 10Mbps. Upload speeds are 1.5Mbps.
The Motiif "M" smart trench coat is in development and is expected to launch this coming February. The company is looking for some alpha testers who will get a behind the scenes look at how the coat is made, and even get to model it at special events. After two weeks, you return the coat and get briefed on your experience with it. If interested, click on the sourcelink to apply.
source:
Motiif
via
Laptop
,
SlashGear