Most mums trust Android, iPhone only second best
29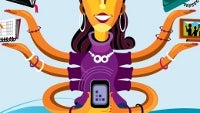 Here's an interesting infographic about Android and... moms. Life360 asked a tiny minority of its mom readers about their growing addiction with smartphones and which one works best for them and it all ended up with a few interesting suggestions.
We wouldn't call them exactly conclusions since the survey probed a mere 500 moms, but it's definitely enough to attract our attention.
The first thing the survey asked is just how inseparable moms and smartphones have become. Curiously, 28.7% of the moms wouldn't give up their smartphones for a day even if paid, while 32.4% would trade a day without a smartphone for a day at the spa. Interestingly, only 11.8% thought that a mere dinner at their favorite restaurant would be enough to make them ditch their handset for a day.
Most surprising however was the rate of Android smartphone adoption among moms. Even though, many consider Google's platform more complicated and fitting only the nerdy male geek, moms had no issues with Android and actually it was their favorite. iPhone-toting moms were a third of those who put their trust in Android.
Interested about what else mothers had to share about their everyday technology? Check out the full infographic to the right for all the details and let us know whether your impressions agree with the stats!
source: Life360 via AndroidCentral