More pictures of the Samsung Galaxy S8+ leak, indicate a possible 6" screen
74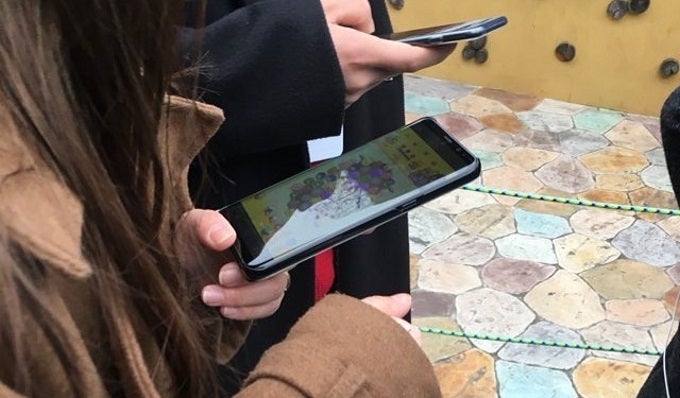 Today seems to be a busy day, as far as Samsung flagship leaks go. Just a few hours after we showed you
a few real-life pictures of the Samsung Galaxy S8
, more have sprung up on Chinese blogging platform Weibo. They certainly seem to fall in line with previous photos, showing off the device's almost bezel-less curved display, sensors, and lack of home button, along with yet another confirmation of the fingerprint sensor's placement. One photo also appears to indicate a 6-inch variant of the device.
In the first set of images, a woman is seen playing a game on what is purported to be the S8+ variant. The game does not seem to fit into the device's 18:9 aspect ratio, making the bezels appear much larger than they are in reality, though upon closer look the top and bottom edges of the screen are still visible. The second set shows the S8+ with its screen turned off, but in much better detail than earlier pictures. On the top and bottom of the device one can easily see the antenna lines, which weren't visible in the earlier leak, while the rumored Bixby button can be spotted on the left side.
The last photo shows what is possibly a box with a logo for "Galaxy S8 6", leading us to believe the S8+ could have a 6-inch screen. However, The 6 could also indicate something, like for example a prototype code number, or maybe even an alternative branding for the bigger device variant. On the bottom, the text "Samsung, Yateley" is visible, which is where Samsung's European QA lab is located.
As is usual, leaks should be taken with a grain of salt, though the consistency of today's ones is certainly intriguing. Unfortunately, the latest pics don't show the S8's user interface like the previous ones did, but hopefully we'll see more of it in the future.
The S8's release date
is expected to be announced in just a few days at Samsung's MWC conference, but don't expect a major reveal just yet –
the event will be focusing on the Galaxy Tab S3
instead.