More images of the Galaxy Folder and the Samsung Hennessy dual-screen flip smartphones surface
4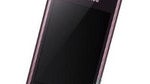 It's been nearly a month since we first caught a whiff of the possible future additions to the Samsung Galaxy line, the rumored dual-screened Galaxy Folder, and what an addition it is! By and large an extinct category, the South Korean tech behemoth appears intent on reviving the flip-phone form factor.
Before we get into specifics, dobear in mind that both smartphones are aimed at the Chinese/Koreanmarkets, and chances of them making an appearance on US soil are slimto none.
Two model numbers for the GalaxyFolder hint that the device may come in two versions, one of which isexpected to support 4G LTE connectivity. The rest of the hinted specsinclude a 3.7-inch AMOLED displayrunning a resolution of 480x800 (no word whether both screens areidentical) and a Snapdragon 400 dual-core processor ticking at1.7GHz. A whopping 2GB of RAM is also available, or so the rumorshave it, along with a 1820mAh battery and Android 4.2.2. The GalaxyFolder is said to be aimed at the Korean market; launch date remainsa mystery.
But the Galaxy Folder is one of twoflip-phones rumored to be in the works, for there'salso the dual-display Samsung Hennessy that we brought yourattention to at the beginning of the month. While the specs on theHennessy are, by no means, anything special, in theory we can't seethis nostalgia-inducing smartphone having any trouble poweringthrough most anything you may think of throwing at it:
A unknown quad-core processor clocked at 1.2GHz will serve as the brains behind the operation

1GB of RAM and 1GB of internal, microSD-expandable storage

A 3.3-inch, 320x480 HVGA display will be present both on the inside and outside.

An alleged 5MP CMOS camera

Android 4.1.2 Jelly Bean
Pricing and availability remainunknown, but we'll keep you up to speed. In the meantime, if you findyourself similarly reminded of times past, then you should check whatSamsung has in store for us below.