Samsung really is going for every market: plans a new Android flip-phone
72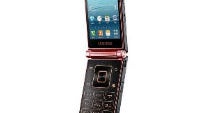 By now, we all understand that Samsung's business model is the complete opposite of Apple. Where Apple focuses on a few devices and tries to make each device fit the needs of as many users as possible, Samsung wants to make sure it has a specific device for every single potential customer. And, it seems that even includes the flip-phone market.
The new word from Korea is that Samsung is planning to release an Android powered flip-phone in August that will be called the Samsung Galaxy Folder (get it?). The device will feature a 480x800 WVGA display and a dual-core Snapdragon S4 chipset, along with LTE, and Android 4.2.2 Jelly Bean.
Not surprisingly, the device would be aimed at the low-end market. Perhaps your parents who refuse to give up their 6 year old flip-phone may be the target market?