Montblanc's e-Strap turns your snooty swiss timepiece into a smartwatch
16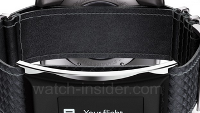 While the smartwatch is still a relatively new device, Swiss watch makers apparently are worried about the possibility that the new wearables will take sales away from their expensive timepieces. Watchmaker Montblanc has a solution. An email sent out by the Swiss firm on New Year's Day to customers and fans, revealed the e-Strap. The device replaces the current strap on your expensive Swiss timepiece, turning it into a highly functional smartwatch.
Set to be officially unveiled at a conference in Geneva later this month, the e-Strap will give you a vibration alert to notify you of an incoming call on your smartphone. The device is equipped with a touchscreen which will show previews of emails, allow you to read text messages, and will alert you when you have an upcoming appointment.
The Activity Tracker measures your movements by counting the number of steps you take, and the distance that you've traveled. It also computes the number of calories used. The e-Strap will send you vibration alerts, reminding you to stay active. And an app for your phone is available to keep track of your fitness data for the week and month.
The e-Strap can act as a remote for your phone, enabling you to snap pictures with a tap of the wearable. The device will also let you remotely control the music being played on your smartphone. And the "Find-Me" feature uses your smartphone to find your lost watch within a range of 30 meters. It also allows you to use the watch to find your lost smartphone. The battery on the e-Strap will power the device for as long as five days between charges.
The e-Strap works with the
Samsung Galaxy S4
,
Samsung Galaxy S5
,
Samsung Galaxy Note 3
,
Samsung Galaxy Note 4
, and selected phones running Android 4.3 or higher. The device also works with the
Apple iPhone 4s
,
Apple iPhone 5
,
Apple iPhone 5s
,
Apple iPhone 5c
,
Apple iPhone 6
and the
Apple iPhone 6 Plus
.
The e-Strap is water, heat and fire resistant. The device can be purchased for as low as $241 USD. A stand-alone model will be priced at $541 USD and the Montblanc Timewalker Urban Speed chronograph e-Strap (including the watch) is $5641 USD. We have to say that this is a brilliant idea from Montblanc in response to some pretty serious competition. While most smartwatches aren't being promoted as jewelry, Apple has done so with the Apple Watch, displaying it at a Paris fashion show and
having a runway model promote the device
.
source:
Watch-Insider
via
GigaOm