Monsters from Asia: the camera-centric ZTE Nubia Z5S LTE
11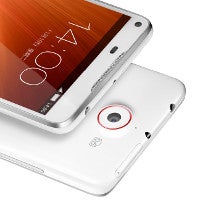 A month ago
, we decided that it is about time we started highlighting some of the really impressive devices that the increasingly resourceful folks over in the far east have started churning out. As it's our job to keep tabs on what's going on around the globe at a regular basis, we're actually well aware of the variety of devices that calls places like China home, and many, high-caliber smartphones instantly come to mind. But there can only be one, so today we'll be putting ZTE's Nubia Z5S LTE under the spotlight.
But before we get to why the Nubia Z5S deserves a mention, a quick word on ZTE and Nubia in particular. The Z5S is the first upgrade to the Nubia flagship line, and it's even more impressive than the original Nubai Z5. ZTE's premium brand is operating at high speeds, and we've been witnessing a steady improvement across the board. At this point in time, the Nubia Z5S LTE represents ZTE's greatest achievement.
But the real selling point of the Z5S is the 13-megapixel camera. Now, this isn't just your typical 13-megapixel unit -- it's a 5 lens setup with f/2.0 aperture and sapphire glass protecting the unit from scratches. The camera also comes with optical image stabilization (OIS), a feature that mainstream brands are now realizing helps the sales pitch. The sensor, a Sony Exmor RS, should also ring a bell with many of you, seeing as that's what the beefy cameras on the Xperia Z1 and Xperia Z2 come packing. Not at all surprisingly, the phone can shoot 4K video, and even slow-mo clips at 120 framers per second. The software behind it also goes pretty deep, with numerous shooting modes available, and also some pretty neat manual controls. For example, whereas your typical smartphone camera will set the exposure relative to the chosen focus area, you can actually set focus, white balance and exposure independently from each other with the Z5S, giving you more flexibility. Lastly, the phone also comes with a beefy, 5-megapixel front shooter, excellent for those trendy selfies.
The phone also comes packing a set of stereo speakers on the back and a 2300 mAh cell, along with an IR blaster on top, and a dedicated shutter button on the right side of the device, cementing the notion that this is a camera-centric smartphone. How much does all of this cost? 3459 CNY, or about $564, which certainly isn't that cheap. Fortunately, you can skip on 4G LTE, and pick up the 3G version (Z5Sn), which costs slightly less, at 2999 CNY, or about $490. ZTE hasn't yet announced anything in terms of US availability, but we've seen several Chinese vendors vowing to introduce their wares stateside. Who knows, ZTE might just be the next one.