Monsters from Asia: the 1440x2560 resolution display-touting Vivo Xplay 3S
17

At its very core, PhoneArena has always been about covering relevant and interesting content that is at least somewhat related with the mobile industry. But these two don't always go hand-in-hand. More precisely, while our wholly new, fortnightly 'Monsters from China' column may not appear exactly relevant, in that the devices we'll be covering are not freely available throughout the US and Europe, it is every bit interesting and important for the industry as a whole. Whether we agree with the practices employed by some Chinese manufacturers seems almost irrelevant, as these have been steadily progressing throughout the last two years, and some of them have actually gotten awfully close to offering little- to no-compromise devices. One such devices will be taking a place under the spotlights today: the QHD display-equipped
vivo Xplay 3S
. And, truth be told, we're just suckers for fancy devices of this caliber.
Now, before we get into specifics about what makes the Xplay 3S a device worth your attention, even though it's unlikely to ever reach the shores of the US, it's worth pointing out that Vivo is a subsidiary of the same company that stands behind Oppo -- BBK Electronics. As many of you probably know at this point, the latter's products have consistently been of very high quality, and the same goes for Vivo.
A premium manufacturer, Vivo now has a wide range of devices covering a big degree of the price spectrum, yet it's its newest, highest-end Vivo Xplay 3S that really caught our attention. Introduced amid overwhelming fanfare in its home country of China, the Xplay 3S managed to capture the attention of even the western world -- a rare feat for a Chinese smartphone.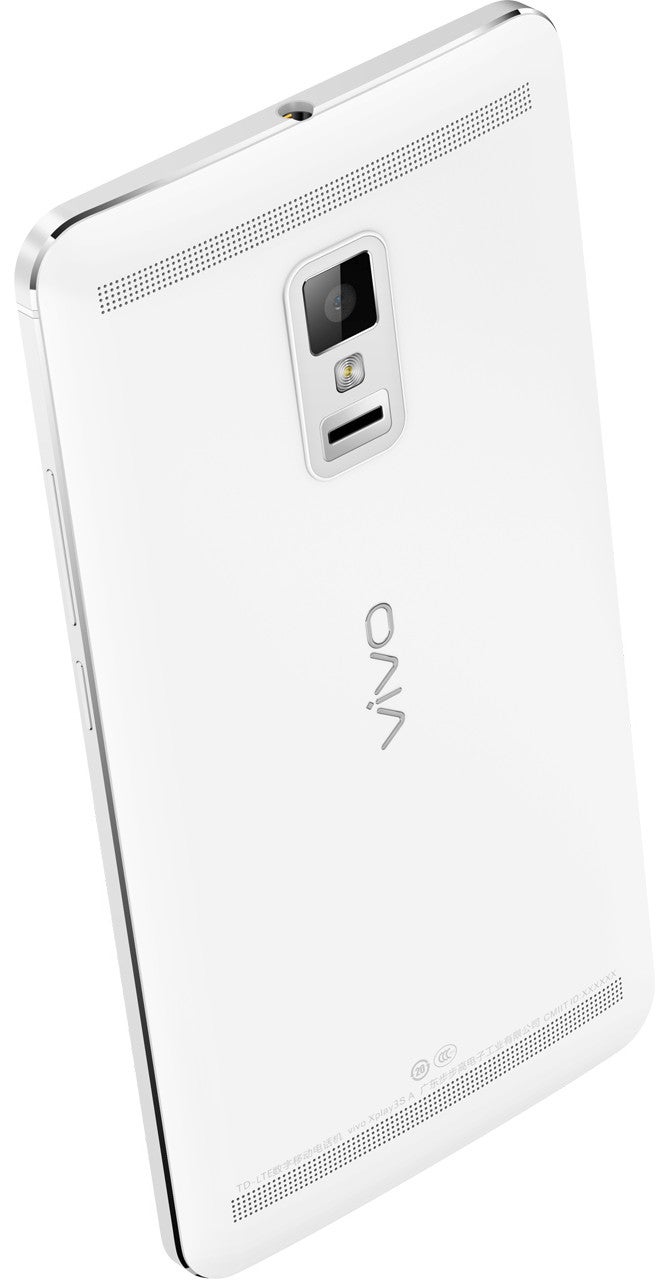 The reason for that is actually quite simple: it's packed to the very brim with some super bleeding-edge internals, and is currently unrivaled in terms of its hardware arsenal. We're talking a 6-inch display, sporting a crystal-clear resolution of 1440x2560 pixels (QHD), or about 490 pixels per inch. This is the first display of its kind to be officially
announced
, though we're still waiting to see one of those touch the hands of consumers.
But a ridiculously crisp display is far from all the Xplay 3S has in store. It's also packing one of the more potent bins of Qualcomm's quad-core Snapdragon 800 -- the 8974AB, running at 2.3GHz. The mighty silicon is further complimented with 3GB of RAM and 32GB of on-board storage. Vivo could've stopped right here, and they'd still have a flagship worth its salt, yet there's so much more. The manufacturer has also included a fingerprint sensor on the back of the Xplay 3S -- one of still very few such -- and also a set of stereo DTS speakers and headphones. The Xplay 3S is actually actively marketed as a Hi-Fi audio device, and that's for a good reason, thanks to a dedicated DAC and amplifier chips from ESS Technology and Texas Instruments, respectively. Take a breath, for we're not nearly done. The ambitious Xplay 3S also offers a 13-megapixel rear shooter with a super-wide, f/1.8 aperture lens, and a 5-megapixel, wide-angle front snapper. The phablet also has a 3200mAh battery snugged inside, and dual-mode LTE antenna, meaning that it'll work with both China's 4G LTE network (TDD-LTE) and the rest of the world's (FDD-LTE), at least in theory. Before we wrap this up, it's also worth pointing that the Vivo Xplay 3S is, design-wise, a very polished device. Despite its screen, the phablet is actually fairly 'compact' and slender (158.2 x 82.6 x 8.7 mm, 174 grams), as bezels are super slim.
Surely, such a package must cost in the thousands of dollars, right? Not exactly -- it's currently listed for pre-order at 3498 Chinese yuan (~$580) for people in China, but you can probably guess that scalpers will bump pricing up if you're looking to get this phablet in the States or Europe. Moreover, we can't help but admit that Vivo kind of dropped the ball with the Xplay 3S in one particular regard -- availability was promised for mid-January, yet current plans put the actual release at the end of February. The reasons we can think for the delay are many -- Vivo, for example, could have rushed this in order to snatch a tentative 'first' with the QHD display, or this could be related to the particular model of Snapdragon 800 the company is gunning for. The same has been alleged as the culprit in production delays of neighboring Xiaomi with its 'international' version of its flagship Mi-3. Apparently, there just aren't enough of those chips around right now. Lastly, it's not at all unlikely to imagine that the display itself is keeping Vivo engineers awake at night. As with any new tech, there's always the risk of low and defective yields.
The Vivo Xplay 3S sounds like a super-awesome piece of bleeding-edge goodness, and yet, for the time being, it's nothing more than talk and show. But, given a chance, and should it materialize in its promised form, would you snatch a unit for yourself? We sure would.