Microsoft's Hub Keyboard for Android puts document and contact info sharing at your fingertips
7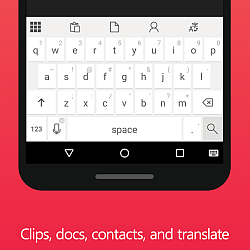 Microsoft Garage, the Redmond-based company's app project studio, is back with a new Android-exclusive project.
Meet Microsoft's Hub Keyboard, an app that makes it much easier to send documents, paste text, and share contact information with your friends and coworkers.
Microsoft's Hub Keyboard is designed for Android users who often find themselves sending files or contact information. Under normal circumstances, looking up a document or a contact has you leaving the app you're currently in, but the Hub Keyboard puts all of this information inside the actual keyboard, where it can be accessed with ease of use.
With the Hub Keyboard, users just need to tap a button to browse/search through their OneDrive and Sharepoint documents. This allows the user to send the file without leaving the app (and losing the focus) to find it. The same principle goes for sharing contact information.
The contact sharing feature can access both the phone's contacts as well as the ones in your Office 365 account. Certainly, it would have been a lot more useful if Hub Keyboard would be able to scan to all of the documents on the phone, not just the ones hosted by Microsoft, but if you're already invested in Microsoft's cloud ecosystem, then you probably won't mind this omission.
Another interesting feature is the ability to scan through the text that you've recently copied to the clipboard. Need to paste that address again? Just tap a button, find the text in the 'Recent clips' view, and then paste it in any instant message or email conversation.
Last but not least, the Microsoft Hub Keyboard for Android also integrates a rather interesting, if incomplete, translating function. The keyboard lets you translate your own replies before sending them. Unfortunately, however, the incoming messages are not translated, which makes sense given that Hub is a keyboard, not a fully-fledged translator.
It looks like Microsoft keeps expanding its footprint on the Android ecosystem. Aside from bundling its core apps with modern Android flagships such as the Samsung Galaxy S7 and Galaxy S7 edge, the company is also running some interesting Android projects such as the new Hub Keyboard or the
recently-updated Microsoft Next
productivity-oriented lock screen app.