Microsoft to have 44 stores by the end of fiscal 2013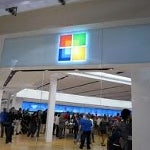 Microsoft Chief Operating Officer Kevin Turner said at Microsoft's Worldwide Partner Conference that the tech titan
will have 44 Microsoft Stores open for business by the end of its 2013 fiscal year
. Microsoft's fiscal year ends in June, so the additional stores should be up and running by next summer. The next store to open will be the location in Orlando, Florida which opens its doors on August 18th. After that, on August 23rd, the Microsoft Store in Boston, Mass. will be in operation. Most of the new stores will be located in the United States with one coming to San Juan, Puerto Rico and another opening in Toronto, Canada. It was a year ago that a Microsoft official said that in the next two to three years, the company would have 75 stores operating. To put that in comparison, there are currently more than 300 Apple Stores open globally. Microsoft's strategy has been to shadow Apple Stores as they open.
Microsoft get its new Windows 8 powered Surface Tablets in front of a large audience
during the seasonal peak in consumer electronics sales. Sure, there will be some visiting the stores
that already know that they will be buying the tablet
by the time they walk out the door. But others will need to actually see the 10.6 inch Surface Tablet in action and
play around with it
before making the decision to buy one. With two different versions of the tablet, one powered by Windows 8 with Intel Inside and the other powered by ARM-based Windows RT, potential buyers are going to need some help in determining which model best suits their needs.
The interesting thing is that with a ton of cash in the vault Microsoft has the money necessary to make the Surface Tablet
a legitimate challenger to the Apple iPad
. At the same time, the company certainly has the scratch to make sure that its stores are done right. By this time next year, we will have a much clearer idea on whether or not Microsoft's entry into the tablet market allowed it to take market share away from Apple's tablet.
source:
ZDNet