Microsoft to begin an aggressive "Real Time Trials" ad campaign
7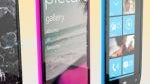 We've all become familiar with Microsoft's
'Really?' ad campaign
, which encourages users to embrace the convenience of Windows Phone 7, so that they can focus on what's important. Their new Internet ad campaign, going live in the next couple months, will pit a Windows Phone 7 device against your own in a series of time trials of typical tasks.
The Flash ad campaign, called 'Real Time Trials' encourages you to compete against the portayed WP7 device with your own. Some of the challenges include emailing your co-workers to tell them you're running late, checking your
Xbox LIVE
achievements, taking/uploading photos to Facebook, and finding your way home.
First off, we have to say that an Xbox achievement race isn't really fair, considering the integration of Xbox LIVE on WP7 devices. And moreover, how are consumers supposed to believe that these time trials represent the realistic speed of the device itself? But on the upside, it does demonstrate some of the shortcuts that WP7 provides.
If nothing else, these ads should provide Microsoft with what they've so
lacked
: 'real' consumer exposure to Windows Phone 7. Yes, the 'Really?' ads are entertaining, but they've done little to boost WP7's appeal. Hats off to the Crispin Porter + Bogusky ad agency for creating these clever adverts.
source:
WinRumors