Microsoft takes another step toward integrating Skype with other services
1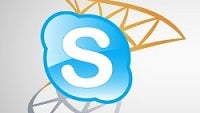 Microsoft showed off a video call between Skype and another video messaging service used by many businesses around the world, Lync, at an industry conference.
This is not a hot new app for the consumer, but this integration does feed the trend of "bring your own device" (BYOD) to work. Lync integrates with other Microsoft server based applications and allows voice, video and chat features in an enterprise environment without having to use the regular phone network.
Now, Skype will have some integration with that environment. Lync servers could already determine if a Skype user was online or not, now that feature goes a step further and cross-platform video calls will be supported as well. Beyond that, support will extend to Cisco based teleconferencing systems.
For Lync to work properly, a business must have Lync server installed in its enterprise and it allows calling and the like to take place without having to use the phone network. Unlike Skype however, Lync cannot make a plain phone call over the public switched telephone network (PSTN). Starting this summer, that will change. Lync will also support E911 features in the US.
This support will find its way across all Lync client apps for iOS, Android, and Windows Phone. Moreover, Microsoft will have a new Lync client for Android tablets this summer. While this is not the hottest "new device" or "new app" news, it will prove convenient for those that start a new job, are expected to BYOD, and know that features like this will be supported no matter what device you have.
source:
Ars Technica