Microsoft CEO proudly displays software on iOS and Android
3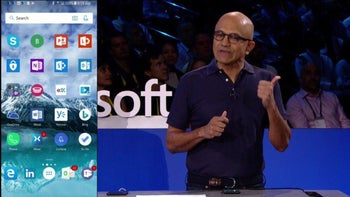 Inspire is a conference for Microsoft partners held once a year. It was held in the past week and during the conference, Microsoft CEO Satya Nadella took time out to display the company's apps running on both
iOS
as well as
Android
. It is no secret that Microsoft has given up on its own line of mobile devices and switched focus to its software. Many Windows 10 Mobile fans have opted for Android and found some level of comfort in the slew of options available from Microsoft in the Google Play Store. Of course, there are options on iOS as well, albeit with less flexibility than what Android offers third-party developers.
CEO Satya Nadella knows this...
Which is why he took time out to proudly display the apps his teams have been developing for these two platforms. The head of Microsoft called both platforms an, "Endpoint for Microsoft 365" and showed the variety of ways a user can replace default apps with Microsoft offerings. Some of the apps he detailed were Edge,
Launcher
, Outlook, LinkedIn, Teams and Yammer. Most believe the Android device was one of Samsung's recent flagships, which is to be expected since Microsoft has been selling these pre-loaded with its own software for some time now.