Microsoft says patch to fix Surface Pro 3 battery issue is coming soon
5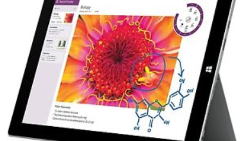 Surface Pro 3
users have had a problem with the battery draining rapidly. This is not a hardware issue, Microsoft said last month. And that actually is a good thing because fixing the problem could be as easy as disseminating a software update. In fact, a fix is reportedly being tested by Microsoft right now.
Some Surface Pro 3 owners shelled out $450 for a replacement device before Microsoft figured out that it wasn't a hardware issue. Will Microsoft reimburse the Surface Pro 3 owners who couldn't wait and had to replace their slate? So far, the software giant hasn't made any announcement about what it plans to do.
What Microsoft did say the other day in a statement on its support site, is that those experiencing the battery draining issue on their Surface Pro 3 should not pay to replace the device at this point. After all, the update is already being run through QA (quality assurance). As soon as Microsoft releases the update, we will pass it along to you.
"Hello everyone,

Thanks for your patience as we've worked though the details here. We can now confirm that this Surface Pro 3 battery capacity question is not a hardware issue, but one that can be addressed with a software update. Our team has been working on, and is now testing, an update that will address this. We'll publish the update as soon as it has passed our quality assurance process. For now, you should not consider replacing your device as an update is pending.

Thanks again for your input on this. We appreciate it and we'll share more when the update is ready.

Greg"-Microsoft statement on Surface Pro 3 battery issue
Some Surface Pro 3 owners are still worried about the race against the clock that is taking place here. If the battery powering their tablet is fried before the software update is sent out, they will be SOL. Hopefully Microsoft does the right thing here and makes everyone whole so that they can enjoy their Surface Pro 3 without having a bad taste in their mouth.
source:
Microsoft