Microsoft says Mango to be released as Windows Phone 7.5, subsequently denies it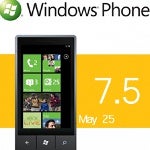 A mountain of evidence points to the fact that the next major update for Microsoft's mobile OS, also known as Mango, is to be billed as Windows Phone 7.5.
That's despite the fact this info is not official at all - although the Redmond-based giant is yet to deny it unequivocally, the official Microsoft line dictates that this update is known as Mango and Mango only.
The speculation originates from a slide showed during
MIX 2011
that presented Mango as Windows Phone 7.5, and the fact the Microsoft Partner Network site briefly offered us the chance to "Preview the New Windows Phone 7.5", i.e. Mango.
Both slips were subsequently said to be mistakes, not to mention that a quick check at the Microsoft Partner Network page shows that the phrase "Preview the New Windows Phone 7.5" was neatly edited to say "Preview the Next Version of Windows Phone".
There are some speculations that the current build of Mango is WP
7.1
, while the update is expected to arrive in late 2011 or early 2012. Rumor has it that Mango will pave the way for the first Nokia handsets powered by Windows Phone.
source:
WPCentral