Microsoft patent royalties from Samsung and HTC totaled $800 million in Q2, tops Windows Phone sales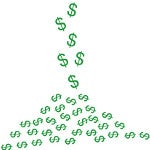 licensing patents to smartphone manufacturers
. Royalties from Samsung and HTC alone added up to $792 million in the second quarter of this year. HTC pays Microsoft $10 for each Android phone sold while Samsung pays $12-13 per Android unit sold. That compares wth the deal that Microsoft has with Nokia that gives the Finnish based handset manufacturer $250 mllion each quarter, but returns to Microsoft just $20 for each Windows Phone made by Nokia.
For Microsoft, these deals are a hedge aganst poor sales of Windows Phone flavored models. And while the licensing money comes rolling in each quarter, Microsoft doesn't have to pay HTC or Samsung like they do with Nokia. If Android continues to hold its huge global market share, partly at the expense of Windows Phone sales, Microsoft prospers. And should Windows Phone take off, Microsoft does well, too. Research firm Canalys shows that all of Microsoft's Windows Phone partners shipped
5.1
million handsets last quarter which lends credence to the idea that royalties from patents used by smartphones exceed revenue from Windows Phone sales.
source:
Trefis
via
BGR