Microsoft may offer Windows Phone and RT for free to better compete with Android
18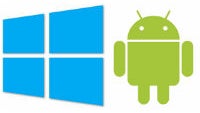 Windows Phone has been doing well in the low-end market in some regions, and has been steadily
growing its market share
around the world. The trouble is that Nokia (soon to be Microsoft) comprises as much as
90% of the Windows Phone
devices sold, and Microsoft needs more hardware manufacturers to take the platform seriously if it is to continue its rise. With that in mind, Microsoft may be considering removing the licensing fees for Windows Phone and RT.
Sources for
The Verge
are saying that Microsoft is planning versions of its mobile platforms that will be offered to manufacturers free of charge. The plan may even include more ads and a bigger push to get users onto subscription services like SkyDrive, Office, and Skype. A move to removing license fees is quite obviously an attempt to target Android, which is not only license-free but the leading mobile platform in the world. This isn't the first time we've heard this though, as there were reports that Microsoft was in
talks with HTC
to offer Windows Phone licenses for free.
Some reports have pegged the current license fees of Windows Phone at somewhere between
$20 and $30
; and even before Microsoft announced its intentions to purchase Nokia, there were reports of
manufacturers avoiding Windows Phone
because of the licensing fees. A move to offering Windows Phone for free would certainly remove that barrier, especially with free options like Android, FirefoxOS, and Ubuntu around.