Microsoft makes fix available for those Microsoft Surface RT slates bricked by RT 8.1 update
8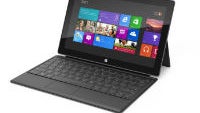 Is there anything more disappointing than an update that bricks your device? A few owners of the Microsoft Surface RT got to know that feeling the other day when their tablet was bricked when they tried to update their slate to Windows RT 8.1. The folks at Redmond say that the number of brick owners is quite small with less than 1 out of every 1000 Surface owners impacted (<0.1%). On Saturday,
Microsoft pulled the update from the Windows Play Store
once the word spread about the problem with the software.
On Monday, Microsoft made available a recovery image that will help bring those bricked Surface tablets back to life. This will require a USB drive and those who have used it say that it does the trick. Meanwhile, Microsoft is still hard at work, trying to get a safe and reliable version of Windows RT 8.1 ready to be sent out to Surface RT owners.
"Based on our investigations of a situation customers have encountered updating to Windows RT 8.1, we can confirm that as of now this is a Windows update issue only affecting Surface RT customers," Microsoft said. "While only less than 1 out of every 1,000 (or less than 0.1%) Surface RT customers who have installed Windows RT 8.1 have been impacted, improving their experience and ensuring their systems are fully operable as quickly as possible is our number one priority. We have made recovery media available for download here along with actionable guidance for affected customers. We continue to work towards making the Windows RT 8.1 update available in the Windows Store again and apologize for any inconvenience. Further updates will be provided as they become available."
-Statement from Microsoft
source:
AllThingsD