Microsoft introduces Windows Phone "We're In" location app for organizing powwows
2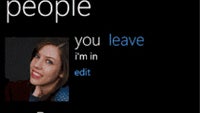 Have you
ever
tried to organize a get-together involving more than just a couple of friends? If you have, you know that feeling of regret after becoming a virtual call center for a couple of hours of your life. Here's when Microsoft's Bing team comes in to help with the
"We're In" app for Windows Phone
. What the application does is simple yet efficient – it allows you to easily organize an event and keep track of the people in attendance. It's simple – after creating an event, you send out invitations to people which receive them as text messages. From there on they can either reply in the app or via the mobile website.
Only after they accept,
your location is revealed
along with your friends' whereabouts. In the meantime, until the event kicks off you and other folks attending can send updates to let the others know whether you're running late or which exact table are you seated at. To make things even more specific, you can view all of your buddies locations on a map which you can zoom in or out to view more or less people. Everyone joining in can see where others are. This might bring some privacy concerns so Microsoft has also added a Leave option which automatically scraps your location from the map. In addition, when an event expires, the user locations stop being displayed automatically.
In a way, it's
like Foursquare
which lets your friends know when you've arrived somewhere, but with "We're In" the focus is different – the app stresses on who, how and when is arriving. Currently, the app is limited to Windows Phone, but the team behind it promises to bring it to other platforms as well. Sadly, the app is only available stateside, but the team promises to make it available in other regions like Australia for once soon.
We're In
for Windows Phone
source:
Bing