Microsoft asks if you are getting "scroogled" – Bing vs. Google
50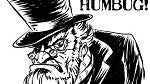 Bing is launching a campaign in "honest searching" taking direct shots at Google in the process and trying to get consumers on its page. In time for the holidays, Bing is shining light on the differences it claims users will experience when conducting their holiday shopping on Google's store.
There may be one or two of you surprised by this, but search engines (including Google and Bing) prioritize and essentially select what you get to see when you conduct searches. In comparing Ebenezer Scrooge to Google Shopping, Bing asserts that customers are getting "scroogled" while they are shopping. Bing takes its argument further stating that Google is grafting users out of the best prices while they shop and claiming that Google has sold out to the highest bidder.
Bing has stated a commitment to the "old school" rules of search, stating that "search results are one thing; ads are another." The difference from Google, Bing says, is that it delineates those results whereas even the "search results" in Google mixed with ads are also advertisements themselves. Bing is also calling on Google to abandon the "pay-to-rank" set-up it has decided to use.
It makes for interesting angle of discussion. Google owns the search market. Do these claims by Microsoft (Bing) make any difference to you? Or, have you found fresh results through Bing or other search engines?
source: Bing Blog (
1
,
2
)