Microsoft and Nokia continue to test Windows Phone 8.1 internally
22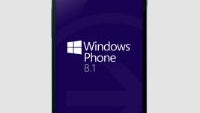 There have been reports since August saying that Microsoft has been internally testing Windows Phone 8.1, but there hasn't been all that much in terms of information about the platform update itself. Windows desktops and tablets have already gotten the Windows 8.1 (aka Blue) update, but Windows Phone has only seen the GDR3 update which has been more geared towards opening up new hardware setups than adding software features.
A new leak is showing that not only is Windows Phone 8.1 still in internal testing, but oddly enough there are multiple builds of the software in testing. The evidence comes from the analytics information of the Facebook Pages Manager, which shows at least eight different builds of WP8.1 in testing. It is unclear who exactly is using the FB Pages Manager or what pages they are managing.
Windows Phone 8.1 is expected to be released in early 2014, and is expected to bring the big software changes that Windows Phone users have been hoping for, including a Notification Center, and Microsoft's voice assistant, code-named
Cortana
.