Microsoft Windows Phone Summit Liveblog
17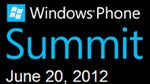 Microsoft is doing some big moves these days. On Monday, it
introduced its Surface tablet
, and today it's going to show us the
future of Windows Phone
! Join us for our liveblog of the Windows Phone Summit event to get all the details about the new version of the operating system as they come!
Unfortunately, not much is known about this upcoming update. Will it feature any design changes, or will it be all about new features that get added to the mix? We don't know, but the good news is we'll know very, very soon. If you'd like to refresh your memory as to what's rumored to change in Windows Phone, please head
this way
to read our rumor round-up article.
Stay tuned, as the event will begin at 9 AM Pacific | 11 AM Central | 12 PM Eastern | 6 PM Central European Time!